More of my stash from my LYX
Here is the stash I acquired at my LYS The Gifting Tree two weeks ago. Karina, 50% wool, 33% acrylic, 17% nylon - purpose - cardigan for ME; On Line Linie 73 SPOT - really funky looking and soft (the black with specks of color) - not sure what I will use this for; Debbie Bliss cotton angora - color: teal - I am going to make a "fake" cardigan with this yarn, just to throw over my shoulders for warmth; the Hand-dyed suede I used to make a belt - have to add fringe; and the ribbon yarn will be used for....hmmm, scarf? not sure yet!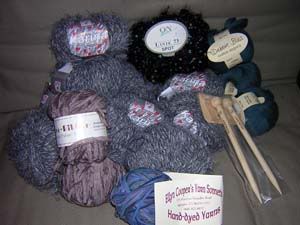 I also received my chenille from England - Sirdar WOW! in cream. Can't wait to get the time to make a cardigan out of that. And have purchased Peruvian Andes wool in various colors to make - what else? - more socks.
I am bummed out that the socks I am making for my sockapalooza pal are not coming out as I would have liked them too - the front is way too big. I AM knitting to scale so I have no idea why they are not coming out as I think they should. I will be at SnB tomorrow night and ask for help. In the meantime I am knitting a pair of white socks using Wool-Ease worsted, as a second pair for my Sockapalooza pal (in case she hates the first pair).
So excited - I got an e-mail from my SP4. She is preparing a package to send to me. Can't wait to see what it will be.